Promotional Novelty Pens
Looking to create a great, lasting impression on your customer's mind? Here's a perfect product for you! Promotional novelty pens are an ideal promotional product that you can offer your clients to gain their loyalty and goodwill.
Uniquely shaped & designed pens are hard to miss or forget when you see them at conferences or exhibitions. It is why your business needs to invest in unique, unusual pens such as light pens, multifunction pens, and others that can make such a powerful impact.
With these branded banner pens, you can pique your client's interest, and generate credible leads for your business. With our logo and brand customisation options, you could play around with the designs in a multitude of ways. Our extensive range of unique pens includes creative designs such as syringe pens, light pens, and many more. And if your brand is looking for something more fun and appealing, we also have the bubble dispenser and maze puzzle pens.
Why Choose Unique Branded Pens For Your Business
Memorable Designs
From simple pens that have a light functionality to differently designed pens that are unique, we offer them all. If you are looking to send across freebies or kits to your clients, branded banner pens are a great addition to the mix. If you need a design customised for your brand, you can get in touch with our team to explore further. These printed novelty pens have ample branding space on them so you can get as creative with the branding design as you want!
High Attention Value
These pens cannot go unnoticed. Be it a simple job fair or an exhibition/event; these pens will grab your customers' attention right away. They are bound to explore and be intrigued by all the features and uniqueness it offers. In addition, with your logo, brand name, or message printed on it, it will bring the user's attention to them each time it is used, and make them memorable over time.
Adds A Fun Element
Usually, with promotional products, there is always a touch of professionalism expected. However, if your target audience gravitates towards fun and casual, these unique branded novelty pens are the ideal choice for your business. Our light pens and full-colour marker pens are fun yet extend a professional touch. Similarly, our bubble dispenser pens can be a great option if you are looking for a quirky design.
Our promotional novelty pens are designed to cater to the fun & creative category. These are ideal for businesses that deliver to the needs of a fun-oriented target audience.
Our Top Bestsellers For You To Consider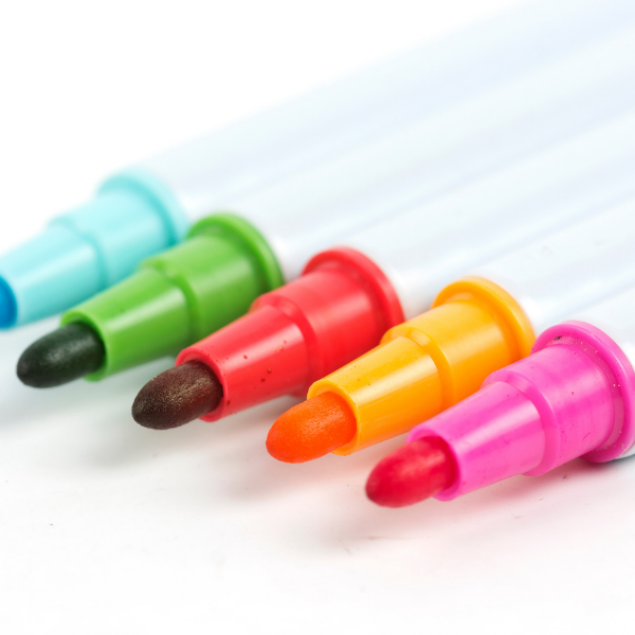 1. Tool Pen Spirit Level With a Ruler – This pen is ideal for businesses within the construction & engineering sector owing to its high functionality.
2. Twist Ball Pen with Light – This can be commonly used across almost all businesses. It can be a great go-to choice for doctors, dentists, etc.
3. Banner Pen – This pen is a great choice for businesses looking to display their banners, such as sports teams, sports firms, or college students.
How Promotional Branded Products Can Amplify Your Business
1. Brand Logo Visibility – The aim of any branded promotional product such as unique pens, is quite simple – Maximum Visibility. They can enhance the visibility of your logo across locations and set-ups that see a high footfall. These products have a ripple effect in terms of brand visibility.
2. High Utility – Our promotional products go beyond just causal branding; they offer a high functional value. Pens, bags, stationery items truly add value to clients in a business set-up. For instance, our unique pens, such as ruler pens, double up as rulers and help individuals in relevant sectors with multiple functions.
3. Cost-Effective – Branding & advertising are a cost-intensive part of running a business. With lead acquisition costs rising by the day, your firm needs to look at diversifying your branding activities. With promotional pens, you can improve your firm's visibility in a cost-friendly manner.
Revamp your business's branding strategy & marketing campaigns and add promotional novelty pens into the mix. Try EverythingBranded's wide range of promotional merchandise!
If you want something a little more understated, you may want to check out our other selections of promotional writing stationery including plastic, metal, stylus pens, and corporate pens. We also have an impressive range of eco-friendly pens, so you can be sure your business' branding is sustainable. Pair any of our pens with our branded eco-friendly office supplies for a professional aesthetic.
Our in-house design team will work with you every step of the way and offer you unlimited visuals to ensure you're happy with your products before they're sent to print.
To give your branding a boost, get in touch to discuss our novelty promotional pens.